Om forestillingen
The Street of Fools is PIT's biggest and best visited stage. Everything can happen – and it does! Everything is for free!
The streets and squares are filled with artists from far and wide. The restaurants serve food from various cuisines. Have your coffee in one of the the parks. Enjoy summer in our beautiful city! 
We have invited the very best artists to Porsgrunn so we hope to see many happy faces.
We open the Festival street with a children's parade, together with Trio Oro and several artists. Join us!  The parade starts at 10 outside Hotell Vic (Storgaten) and goes to Rådhusplassen.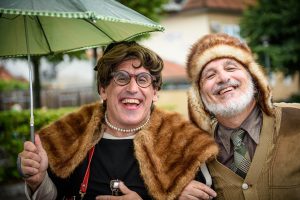 Studium Actoris / Adrian Schvartzstein (n/es): Sweet home on wheels
Laughter for the whole family with two slightly too big personalities in a small caravan! We witness love, jealousy, tenderness and irritation in a chaotic mix of this unusual married couple. And suddenly the "third wheel" in the relationship appears, literally…
Susu and Mumu (n/dk): The magic suitcase
An interactive and fun circus show for the whole family. Susu and Mumu have a suitcase full of equipment they want to show off. But they have forgotten both what is in the suitcase and how the equipment is used. Maybe the kids can help the clowns figure out what's what?
Pop up
Suddenly there is clowning and bodyguarding where VIP status is handed out and absurd security checks are done, when Susu and Mumu are speeding around the festival!
Tobias Vik: Captain Knuff.
The clumsy but nimble pirate has gone ashore. With the Atlantic record for balloon animals and the sea's worst pun, the pirate would like to show off his fantastic seamanship skills. But it doesn't quite go according to plan. Welcome to a humorous and physical pirate show for children, where anything can happen!
Hesteskoen Theater and Music: Hagbart's terrific Rock'n'roll show.
The clown Hagbart Frisk lives out his dreams of being a real rock star ..! Now he has collected some of his best songs in one terrific show. Join the party and sing along!
Hagbart and Kokos: The magical clown Hagbart Frisk will train the rather young clown Kokos. Hagbart believes that children are small and stupid, and very easy to deceive…
Trio Oro gives the audience a distinctive concert with a high technical level, infectious musical joy and lots of charm. They play folk music and tell stories from all over the world with great drive, intensity, humor and impressive precision, for the whole family!
DADO (d) is everyone's favourite! With his poetic stories and self-invented musical instruments, such as musical chickens and a bagpipe hat, he makes speechless audiences cry – with laughter. A perfect blend of magic and humor.
Streetwise Afrobatics (ken) has performed in more than 15 countries! They combine amazing acrobatic skills and fierce dancing. The group recruits new acrobats from street children who get a better life through their art.
The Maniac is the crazy fakir, gives young and old a show we won't forget. There will be breakneck arts  accompanied by the one-man band Mr. Orkester.
Katma: View. An eager birthday boy who throws a party even if his friends can't come, a mischievous choir girl who doesn't get to go to practice, and a child who dreams of travelling. The Hedda prize-winning dance company Katma offers a great performance for the very youngest children.
Laboratorio Internacional Residui Teatro (it/es) : Crossing Borders
Songs and dances from both then and now, from the Mediterranean countries and the refugees who keep coming across the borders. Join us on a walk into the city's squares and alleys with the intimate stories and music that hits the heart. Supported by the Italian cultureinstitute in Oslo.
Virgin Island: A story about the world's most beautiful island, and about a utopia. What happens to us when we arrive at a home away from home and get completely blank slates? This cross between performance, installation and theater – which takes place inside a caravan – is a collaborative project between the Czech Republic, Norway and Iceland. Each country created its version of "Home away from home", when in a covid "pocket" they worked together for three weeks in the Czech countryside.
Cathrine Hovland: The Spice Witch The kind witch sings with all the town's children and puts everyone in a good mood with her magical herbs and magical abilities.
7 June 10.00 – 14.00
8 June 10.00 – 14.00
9 June 10.00 – 17.00
10 June 12:00 – 16:00 and 19:00 – 22:00