Om forestillingen
Varighet
15.-16.-17. og 18.juni
We celebrate that the 1-meter is gone. Now one millimeter is enough! PIT's cornucopia – Festivalgata – is back!
Day by day program will be posted soon.
Clowns, acrobats, puppetry, music and dance. The streets are filled with artists of various kinds from far and wide. The city's many restaurants serve food from different cuisines. Food trucks offer exotic flavors. Forget kitchen service at home; eat and enjoy yourself in the city. Children, families and cheerful, old ladies. Watch out for sudden entertainment. In short: Festivalgata!

Corpus (can): Camping Royale
A crazy fairy tale about two queens from another time who go on a camping trip. Without servants, they must try to survive in the wild. Their castle has been replaced with a tent, the rococo dance must be performed on grass, and how do you fish your own dinner? A charming and interactive adventure for everyone.
Teatro Pachuco (be) Lightning strike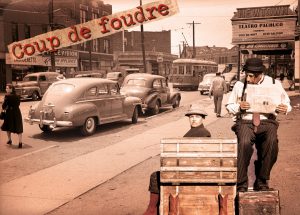 Teatro Pachuco combines silent film and European clown tradition spiced with American-Mexican culture. In an unpredictable love story without words that mix Chaplin with Fellini and acrobatics!
Shiva Grings (de) Postal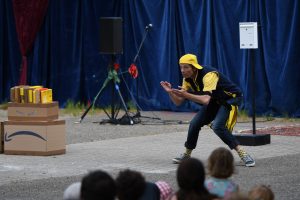 Over the past ten years, Grings has performed his popular, comic improvisations around the world. His new show POSTAL is about a completely overloaded postman struggling with a tiny mailbox.
Cia. Bueyes perdidos (es) Circus on the stray
This fresh constellation of well-known Spanish artists lures us into a poetic and absurd universe with their skills. With humor, acrobatics, poetry and music, they take us to a magical place where time seems to stand still.
Les Dudes (can) City Stories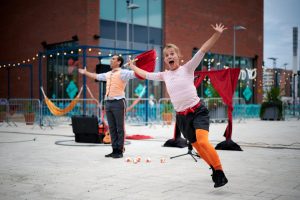 City Stories is inspired by the fairytale world of H.C. Andersen. A family show full of fun surprises, live music, crazy comedy and a little bit of circus.
Nina Ossavy: Yggdrasil
All trees have a mother, just like humans. The oldest mortar tree in the world is the world tree Yggdrasil. But before Yggdrasil grew up, long before the world was created, before humans, cars and mobiles came, there was nothing. Absolutely nothing. Then fire and ice broke together and all sorts of strange things began to happen. By and with Nina Ossavy and Betula Pendula. Directed by: Anne-Sophie Erichsen.
Teater Avvik : The Beehive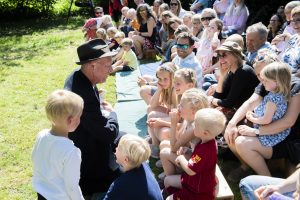 Imagine that a beehive on wheels can hold a lifetime. Lars Vik tells the whimsical story of a man who had everything. To succeed, he must constantly have the help of the public. He usually gets that. In return, the spectators get to taste his honey. A traveling co-production from Teater Avvik & Grenland Friteater.
Tobias Vik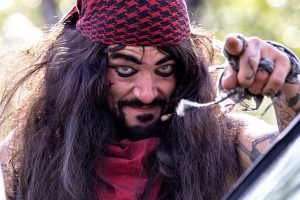 Captain Knuff is a clumsy but nimble pirate with a Norwegian record in balloons and puns. He wants to show off his fantastic seaman's skills, but the sea's naughtiest parrot appears, and stretches sea legs for Knuff. A stormy festive performance for young and old.
Hesteskoen Theater and Music: Hagbart Frisk and Bertina Rask
Hagbart and Bertina are both clowns, booked to perform a solo show. But some have double-booked, so they have to do the show together, something neither of them likes. Singing, slapstick, clown magic, and the spectacular sport of low jumping.
Gunn Inger Aareskjold: The princess on the fart
The queen is so nice about it that she refuses the princess to fart. Then the princess will be weird. The face turns red, and the body is as big as a balloon. Fortunately, a fairy comes with a magic feather button! A fun story with mischievous rhymes and raving rules. Duration about 20 minutes From 4 years
Majd El Mouloukk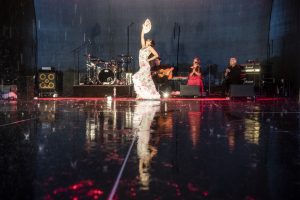 Dance originating in Lebanon, often with elements of flames and drums. High spirits and lots of energy are key words! Is often to experience at festivals and Arab weddings. The group consists of dancers from Lebanon, Syria and Norway.
Bellali Astria (mex / no) The magical journey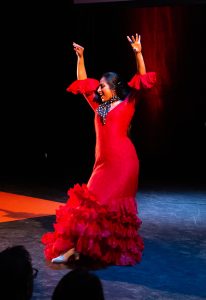 Join in a colorful children's show with castanets, fans and Spanish rhythms. Here, everyone gets to join in the dancing, pedaling and clapping. Come and experience the magic of flamenco in this journey for the whole family!
Direct Action Theater (DAT) / T.I.T.S. performancegroup (cz/no)
The company gathers people with different experiences, to work on the border between art and activism (artivism) During PIT, DAT creates situations and tableaux in the public space together with local actors, about the most relevant issues in time and the city they are in. For adolescents / adults
Cathrine Hovland: The Spice Witch
sees everything in her magic glass ball. With herbs and spices, she conjures up mice and turns men into frogs.