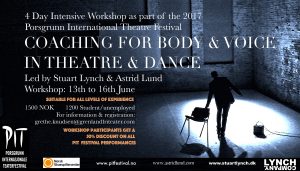 This intensive and powerful 4-day workshop, combines theatre, dance and voice production with contemporary coaching methods. This unique method creates and accelerated learning environment that is designed to develop strong stage skills, alongside the building of a powerful self expression – the ability to say and do what you need to do, when you need to do it.
Through techniques, exercises and assignments Stuart Lynch and Astrid Lund aim to generate an authentic relation to ones practice and skills within the following six areas:
Body Awareness / Voice Production / Attitude & Presence / Public speaking / Dramatic expression / Movement Quality
The teaching is inclusive, fun and informative. inclusive nature of the workshop makes it relevant for beginner and experienced practitioner alike. It is open to performers or individuals from different backgrounds. For dancers it is a chance to discover the voice, for theatre practitioners to develop a deeper relation to ones practice and to non-performers it is a chance to be introduced to the potential of the body and the voice.
13th to 16th June 2016 Porsgrunn International Theatre Festival
1500 NOK  /  1200 NOK for students/unemployed
Participants get a 50% discount on tickets to performances at the festival.
For information & registration grethe.knudsen@grenlandfriteater.com
tel: +47 901 18 979 / +47 359 32 102