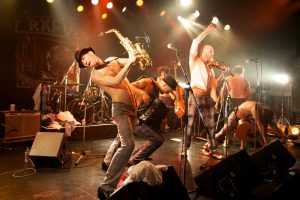 Gled dere!  Sveriges villeste og kanskje beste live-band dukker opp på Kafé K's scene under PIT. Åtte balkan-punkere, samspilte som få, leverer en frenetisk utemmet sound, som er totalt uimotståelig.
Räfven fant hverandre og spilte seg sammen i storbygatene, og dermed er ingen scene for stor eller for liten. De har en suveren kontakt med publikum, og sender ut en vanvittig energi og glede.
De siste årene har de gjort stor lykke bl a på Glastonbury-festivalen og ble bl.a valgt til «best act» på Fuji Rock i Japan.
Obs! Fare for spontan dans …
…the crowd is unreservedly in love and follows every lead from the band. They boil, bubble and pour of sweat. They jump, shout and dance. And honestly, the person who can resist eight half naked jumping jacks spreading this much energy, joy and love – that person is dead inside.  – Göteborgs-Posten
…the members of Räfven are extremely competent musicians. They know how to interact with their audience and they know how to play their instruments. Just like Zlatan Ibrahimovic with his football, to make another Balkan reference. Good as hell, to be clear.  – Allehanda
Jonas Lundberg – Gitar
Loke Nyberg – Fiolin
Martin Nurmi – Saxofon
Daniel Wejdin – Tambura
Johan Wejstål – Accordion
David Fraenckel – Trombone
Rasmus Blanck – Bass
Per Svenner – Perkusjon
Kafé k
16.juni kl. 22.00
V
290,-   U25: 218,-
www.rafven.com
Räfven (s) : Laiv på K!
BANDET
Daniel Wejdin – Tambura
David Fraenckel – Trombone
Johan Wejstål – Accordion
Jonas Lundberg – Gitar
Loke Nyberg – Fiolin
Martin Nurmi – Saxofon
Per Svenner – Perkusjon
Rasmus Blanck – Bass
HJEMMESIDE
www.rafven.com